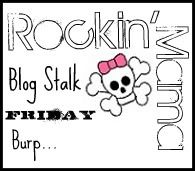 Rockin' Mama is effin' awesome, just saying.
I only have a few minutes before I have to head of to work so I thought I would rock this button out and feel freaking awesome before I leave the house, thanks to all the kind comments on yesterdays late night post.
I'm working on getting some important shit done this weekend. Mainly talking to my Aunt about borrowing some money to apply for school, financial aid thingy (that's due by the end of the month if I want to go in the fall) and do the application (though the application isn't due until July). Last time I filled out the financial aid stuff I qualified for a bit of help, so I'm gonna focus on doing the right thing.
Hmmmm..Over & Out.