So....Had to explain to my boyfriend that I needed to update my wardrobe and start dressing my age. (25) So here are some photos.
Purple Leopard Print..Kinda sheer
Either knitdress or swimsuit overall
Brand New...Only 3.99 I love preppy/punk pieces
Tank Top.
So...One tshirt but who could pass this one up?
Funky necklace..Think it's vintage..needs to be cleaned
Vintage Coca Cola Glass.. Looked it up. Worth $11 and the candleholder I got at Savers too
The HOLY GRAIL of Caboodles. Only 1.99. Still has one of the trays..In really nice shape.
Also got about a dozen of Party lite Votive s for like $5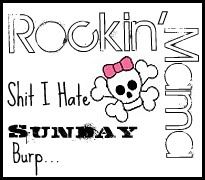 Shit I hate:
1. People who end their orders with "that'll be all" quit being so fucking rude.
2. My boyfriends cat pissing all over shit. She's lived past the normal age of a cat and isn't any pain so we can't just put her down cause he's had her for 16 years.
3. Never being able to catch up on laundry/anything. If everything can't be right then why bother?

Just saying Hello! Hope everyone has a happy Sunday! I will be up and working bright and early! Yippy. Xoxo